Tulips are one of the most colourful flowers in the world, and a field of colourful tulips stretching into the horizon can be one of the most beautiful sceneries that you might have seen. These flowers can be grown in various shades and hues making the contrasting colours more appealing to our eyes. If you are looking for some tips for sending flower gifts, you can be sure that sending tulips is a great idea for gifting to someone special. These flowers are grown in various parts of the world, and there are many festivals that are held for appreciating the beauty of these flowers. You may get a chance to view gardens and flowers for different occasions, but if you get a chance to visit a tulip festival, it is best not to miss such a chance.
The annual tulip festival at the Tesselaar Flower Farm is one such beautiful event, and this time they have associated the theme of the colourful event with an equally colourful literary masterpiece, Alice in Wonderland. So the dramatic concept of "Tulips in Wonderland" presents five acres of land filled with tulips of various shades that will be a complete visual bonanza for your senses.  After visiting this festival, you may definitely feel like delivering tulips to someone you love, and you can take help of the best florists for flower delivery Melbourne. These are some of the best services for flower delivery in Australia, and they can provide you with the right tips for sending flowers and especially tulips.
About Tulips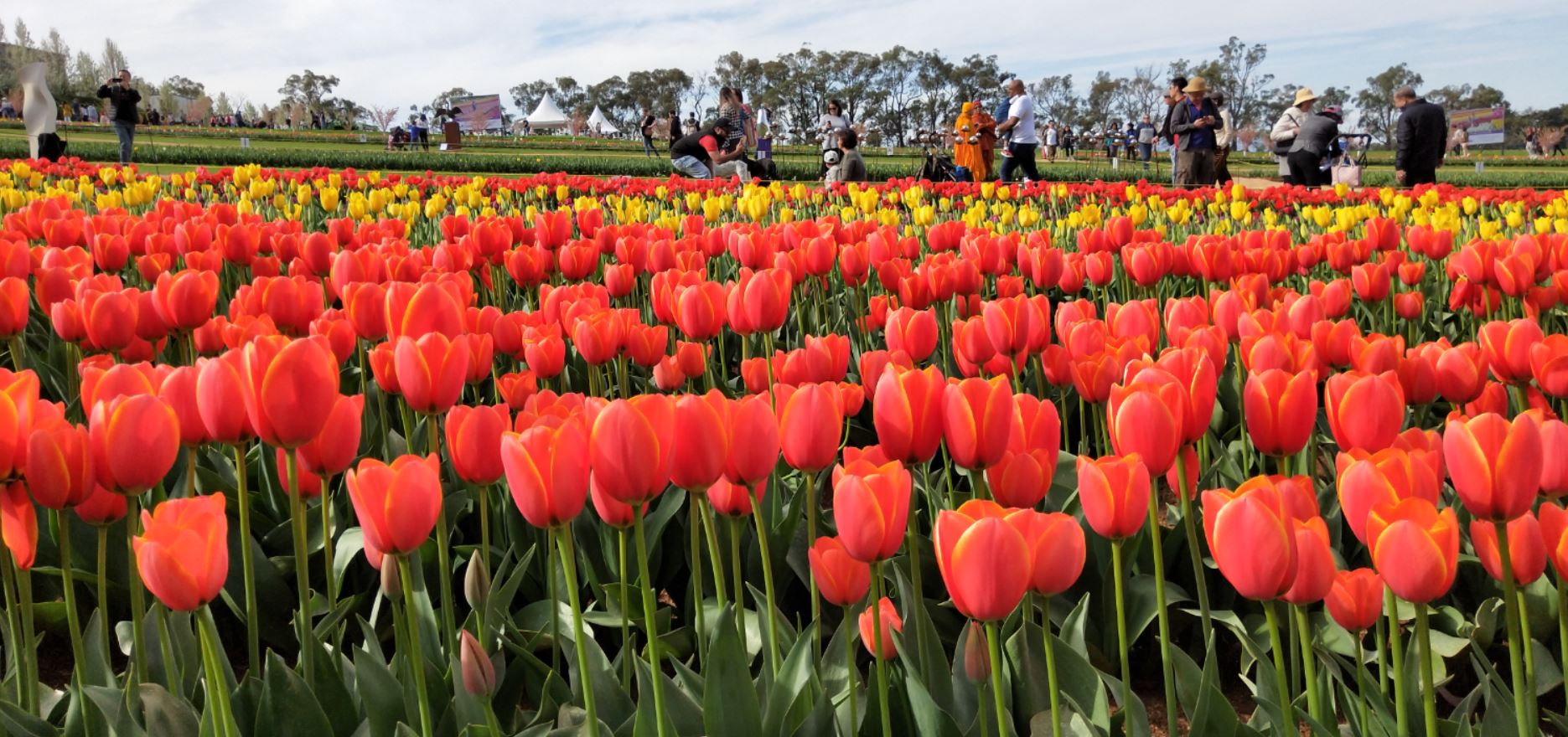 The tulip festival is not just about flowers, but it also gives a chance for people to get together and enjoy music, food, shopping and some great live performances. All the visitors are provided with the set of guidelines to explore the magical and vibrant environment and see some of the best specimens of these flowers in the show gardens. There can be close to half a million tulips blossoming in the ground, presenting an incredibly colourful environment. This lively environment ensures a great time for the visitors for at least half a day, and there is hardly anyone who does not leave the grounds at the end of the tour, with a smile on the lips.
The theme of the festival is also ideal for children to enjoy it and live performances from Lewis Carroll's classic work will be held in the stages set up. There is also a section for children to play along, a sculpture exhibit and also a fairy garden. If you are lucky, you can also get to meet the white rabbit while moving through the grounds. The festival will definitely bring out the beauty and elegance that flowers represent and will surely prompt you to arrange a flower delivery Melbourne for the next occasion that you have. Even if the occasion is not right for sending tulips, you will find a wide range of beautiful flowers suitable for different occasions available for flower delivery in Australia.
This festival is also a great opportunity for photographers to take some beautiful snaps of these colourful landscapes. Classic features like windmills can form a great background for these shots, and whether you are a landscape photographer or prefer taking portraits, you will find yourself clicking away to your heart's content. Whether you are using your smartphone or your high-end digital camera, this zone is a paradise for photographers.
The tulip festival is also a great spot for foodies as the farm has various tasty treats and Dutch delicacies ready to offer them. These delightful offerings range from a variety of baked items, pancakes and burgers to a whole range of beverages and ice creams. One can also go for some shopping, and in case you are looking for gifts ideas for someone special, the souvenir shops can help you out. If you want to enjoy a picnic in the midst of colourful flowers, you can always do that and enjoy some memorable moments.
If you want to dress up in traditional Dutch costumes, you can always do so in the festival and take the photographs to treasure the moments. There are also arrangements for you to roam through the tulip fields by riding a tractor, which will provide a very new range of experience for your entire family. There are also places like the Fairy Hollow and the Queen's Croquet where you will enjoy yourself. Even if you miss the wonderland theme, know that various themes will be running through the festival throughout the blooming period and each one is unique and special in its way. You will find plenty of accommodation options available in case you want to spend a few days in the neighbourhood to enjoy the environment thoroughly.
If you want tips for sending flower gifts, tulips are a great idea but if you want to add some great moments in your life, visiting this tulip festival is a must. This festival has something to offer to everyone and of all age groups and blends the cultural themes with the delightful beauty of nature in a perfect tune.