You must have heard the saying, "What goes around comes around". But what if your best friend takes it too seriously at her wedding and tries to recycle the 90s fashion in 2018? Well, fashion truly has the tendency to be reborn and re-worn in interims of few decades and while it is great news for some fashionistas out there who look to experiment at the drop of a hat, there are others who might not be quite happy with this. This is because you have to think a lot and look gorgeous without looking like a cartoon. Usually, it is the bride who picks outfits for her girl-gang but if your best friend has left it to you by just providing you with the 90s theme, then it is actually a blessing in disguise because you get to choose your own dress. And needless to say, the mismatched style would be perfect for this wedding since all you bridesmaids are going to pick different elements of the 90s trends.
Now, like every other decade, no fashion era is absolutely perfect. So, you cannot choose to blindly copy from the 90s, the key is to interpret it according to your own style and recreate the same clothing with a fresh take on it. So, here, we have put together a few 90s comeback mismatched bridesmaids dress ideas that will help you survive this wedding in style. Take a look.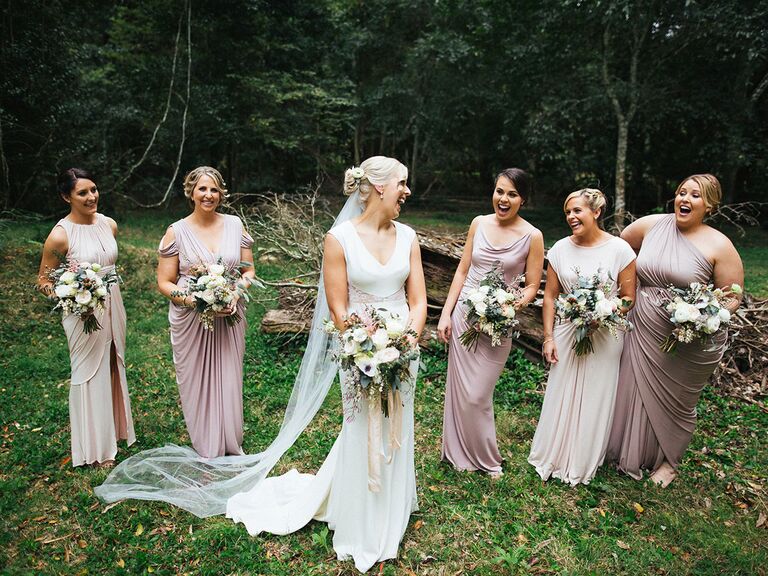 Halters definitely ruled the sartorial scene during the 90s. So, this can be a perfect style that you can don for your friend's wedding. There are two ways to use the halters for the mismatched style of dressing. You can ask all your gal-pals to dress up in halters and choose different hues for everyone. You can pick a color family like red and then assign a different member of this family to each such as coral, carmine, cherry, or scarlet. Or, you can pick different contrasting colors like blue and pink or yellow and green. The second way you can use the halters is that if you are a group of even numbers, two of you can wear the halter neck dress and the rest can choose another different neckline. And for cohesiveness, you can pick the same color for 4 of you.
The 90s flaunted the ballroom gowns with panache. So, if you want to use the ballroom gowns for the mismatched 90s bridesmaid dresses, you can choose different necklines for the ballroom gowns. Off-shoulder was pretty much a favorite of the girls during the 90s so you could use the off-shoulder trend while others could choose a variety of other necklines. And if all of you want to go for the off-shoulder look, then you can choose various off-shoulder styled ballroom gowns but pick different shades. You can opt for a golden and silver combination or you can each wear a different tone of the golden color. This will add more richness to your look.
Last but not the least, there is the resurgence of the flirtatious, slinky, and comfy slip dress from the 90s in the present fashion era. This can be used for the bridesmaid dresses perfectly especially if it is a summer outdoor wedding. These look fabulous at beach weddings and more importantly, these are so comfortable and relaxing that you will feel it is almost like you have nothing on. So, choose different colors of slip dresses, although pastel hues and white are definitely a more preferred choice, and fill the wedding with a stunning charm.
So, these were two of the most stylish ways that you can relive the 90s trends in a 2018 wedding. And now quickly rush to a store near you where you can purchase amazing prom dresses, cocktail gowns, wedding gowns, and mismatched bridesmaid dresses.